Avison Young expands operations in Ireland; GVA Donal O Buachalla and GVA NI become Avison Young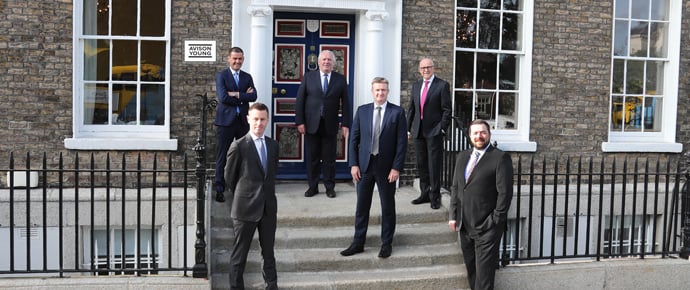 September 23, 2020
Seasoned team delivers market expertise to local and multinational clients across the Republic of Ireland and Northern Ireland
Mark Rose, Chair and CEO of Avison Young, today announced a strategic affiliation with GVA Donal O Buachalla in Dublin and GVA NI in Belfast, which will both now be known as Avison Young. The affiliation builds on a well-established relationship between the firms, which have collectively worked together for more than two decades across Ireland, the U.K. and Europe.
"This is a natural evolution of our longstanding partnership with the team in Ireland who have built on their fantastic heritage to become leading advisors delivering a full range of transactional and consultancy services to clients," said Rose. "They have prided themselves on their challenger mentality, as does Avison Young; our teams wrap themselves around our clients and their success, which is especially important as we navigate times unlike any other."
More than 40 professionals in the Republic of Ireland and Northern Ireland, including nine Principals, join 5,000 colleagues around the world under the Avison Young brand. The professionals in Ireland will continue to offer property services across all sectors, drawing on the right mix of expertise to align portfolios and projects to client's business need – whether assets are single properties in Ireland or global portfolios.
"We are well known for providing exceptional property consultancy and transactional services to our clients; now enhanced by the services and technology of Avison Young," said Fergal Burke, Principal and Managing Director with Avison Young in Ireland. "Ireland has a highly globalised economy and as the gateway to Europe has seen unprecedented foreign direct investment in recent years and record spend from international property investors. This affiliation strengthens our ability to service those international clients and we are building on our 66-year heritage with a partner who is equally committed to investing in long-term client relationships, delivering robust advice, and creating shared success and value."
"Our team in Belfast brings a wealth of experience and market knowledge with a diverse client base – local, U.K. and international corporates – across the private and public sectors," added Jago Bret, Principal and Managing Director with Avison Young in Northern Ireland. "Formalizing the relationship with Avison Young allows us to serve our existing clients with the same level of service, backed by the platform, best practices and technology of a global firm."
In strengthening the relationship with Avison Young, teams will work even more closely with global colleagues across consulting, transactions, valuation, and landlord and tenant services; leverage the firms' innovation tools; as well as be an access point for Avison Young colleagues for the Ireland market.