Avison Young delivers interactive 3D model of Dublin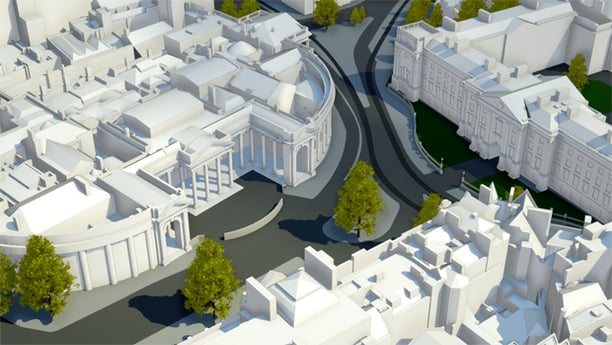 16 Oct 2019
Avison Young has unveiled the first phase of a market leading interactive 'digital twin' of Dublin; and the launch of its specialist Daylight/Sunlight consultancy.
The bespoke high-tech interactive 3D model enables users to view and manipulate the city's current and proposed skyline on the go, and is aimed at enabling clients of Avison Young to make faster, more cost-effective, and informed decisions at the early design stage of their projects.
The model uses the very latest in 'photogrammetry' technology, resulting in a 3D 'twin' that is accurate to 15cm in all axes. The model is highly adaptable, with iconic buildings like the General Post Office, the 'Spire', Trinity College and Bank of Ireland at College Green, examples of how it can be modelled to higher levels of detail. The model is powered using the latest 'game engine' technology on the market, which enables the user to fully explore the impact of new development by flying, walking, and rotating over Dublin at will. Furthermore is fully VR (Virtual Reality) compatible.
Avison Young intends to use the digital twin to support clients in relation to planning and site viability analysis, enabling rapid evaluation of planning, townscape and daylight/sunlight matters. It will also be used to assist Avison Young to rapidly assess how to make effective use of development sites, to ensure the most efficient use of land, in consideration of the Dublin City Development Plan.
To ensure Avison Young can robustly respond to client requirements, it has also announced that it is expanding its specialised and market leading Daylight/Sunlight consultancy in Ireland.
This new investment reflects the growing demand for these specialist services in the Irish market, at a time when there are calls for ever greater height and density, and how that may impact upon the well-being of occupants. This new service is based out of Avison Young's Irish Head Office on Merrion Row, Dublin 2.
Mark Feighery, Managing Director – Daylight and Sunlight / Rights of Light at Avison Young, says: "The 3D model is an immensely capable tool which will be of tremendous benefit to our Irish client base, particularly at the feasibility/viability stage. It facilitates early-stage, cost-effective decision-making processes, particularly with regards to site evaluation, adding to the wide-ranging consultation services Avison Young provides to its clients. We are very excited to introduce it to Dublin. Over the next few months will be adding a host of bespoke interactive datasets that are specific to Dublin.
Having grown up and studied in Dublin, I am also delighted to be spearheading the further expansion of our specialist Daylight/Sunlight service in Ireland, in addition to my existing remit in the UK focusing on common law Rights of Light, and Daylight/Sunlight matters. I'm excited to see how our expanded servicing offering will contribute to shaping Dublin's evolving cityscape in a positive way."
Robert McLoughlin, Principal - Planning, Development & Regeneration at Avison Young, says: "We're delighted to be launching this service at a time when Dublin is growing rapidly, with higher density development in urban areas central to national planning policy. We believe the digital model, our specialist Daylight/Sunlight offering, coupled with our leading planning consultancy will assist both the private and public sector in unlocking sites quickly and efficiently to streamline design proposals."
Avison Young has previously launched its own bespoke digital twin of London, which it has used in conjunction with its specialist daylight/sunlight consultancy to support of high profile developments such as Olympia London, the Wembley masterplan, Lord's Cricket Ground, Selfridges, in addition to some of the highest density masterplans in London to date, which have achieved excellent daylight standards.